We Lead the Industry in Breakthrough Tech
See Why We Have Customers on 6 Continents
Whether it's More Advanced Software,
Faster Processes, or Cleaner RGB Attribution...
LidarSwiss is the Leader
We are thrilled to announce our newest technology advancement: LSAP – LiDAR Synchronous Acquisition and Processing.
LSAP integrates the complicated data processing steps of existing LiDAR typical workflows with LidarSwiss' proprietary algorithm, to automatically process the data on-board during data acquisition.
When data acquisition is completed, the user will get the completed colorized laser point cloud data of the entire mission.
Not a single step of the traditional processing workflow is required!
Click the link below to learn more about our award-winning technology.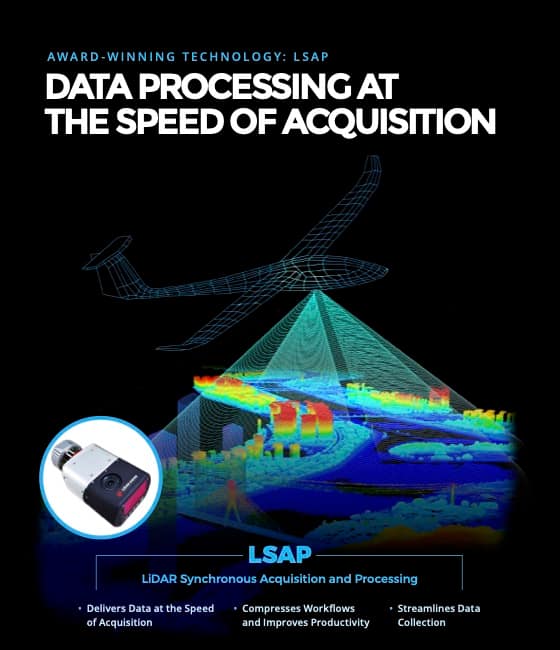 Our 3D Live software is the fastest, most in-depth live data analysis on the market.  
During the UAVs flight, compressed LAS files are sent to your ground station.  
That data is immediately available for use/measurement. 
We Process Files x3 Faster than Our Competitors
See the LidarSwiss workflow in contrast to the traditional process below. 
This comparison of processing steps and elapsed time to output RGB laser files from a Nano P60 mission aboard a M600 UAV.
RGB Attribution is a Dramatic Aid to Data Interpretion


Each LidarSwiss sensor is designed and constructed to RGB attitribute laser data in our standard workflow.  There is ZERO additional effort required to create this type of data.

Check out the example from our new Nano P60 sensor.

Move the slider to observe the dramatic difference between RGB laser data and conventional viewing of laser data colored by elevation!